Always Remember Your Wedding with Video
Weddings are one of the most important occasions in anybody's life. Whether it's your own wedding, the wedding of one of your children, or even the wedding of a sibling or best friend, it's something you will want to remember for the rest of your life.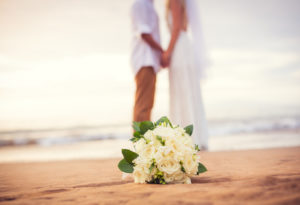 Traditionally, weddings are documented by a wedding photographer. Photos from the wedding can be posted in an album, hung in an important place in the home, or distributed as souvenirs to the friends and family who attended.
But increasingly, modern couples are choosing to document their nuptials with video as well as photographs. Video can be rewatched and re-experienced time and time again years or even decades after the blessed event.
Document Your Hawaii Wedding
When you get married in Hawaii — whether you live here or are just visiting — you have the added benefit of a lush, tropical background for one of the most important days in your life. So creating a permanent video record of your wedding is doubly beneficial.
If you are planning a Hawaiian wedding, Hawaii Video Pro can create the professional wedding video you and your family can cherish for many years to come. Your wedding video can be shared with family, friends, and even people who weren't able to make it to your special event.
Practical, Economical, and Memorable
Getting married in Hawaii is the dream of many a bride and groom. But it comes with some practical considerations.
Not all of the people who could attend a mainland wedding can make it to Hawaii, either because of scheduling, economics, or other reasons. But creating a video record of your wedding and sharing it with your friends and family is the next best thing to being there.
Capture the magic of your Hawaiian wedding with a professionally produced video from Hawaii Video Pro.