Videos Can Save You Time, Money and Effort when Training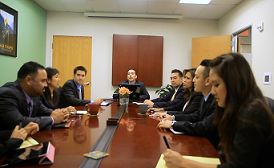 For most businesses, reducing employee turnover is a top priority. Not only do businesses want to hold onto their best workers, but they also want to avoid the costs of hiring new employees.
One of the biggest new hire expenses is training. Depending on the type of business you own, training employees can take anywhere from a couple of hours to a couple of weeks. And all during that time, you need to pay the employees their regular wage while getting nothing in return in terms of direct service to your customers.
And if these employees don't make it through the training process, it's just money wasted.
Training Videos Reduce Costs
If you hire a professional trainer or designate an employee as the official company trainer, there's an even higher training expense.
But if you utilize top-quality, professionally produced training videos, you often can significantly reduce your training expenses while simultaneously ensuring that all new workers get precisely the same training.
Training videos can even be uploaded and posted online for new employees to watch at their leisure. That means new workers can arrive on the job up to speed and ready to go without having to spend a minute on site training.
 Producing Your Own Training Videos
Hawaii Video Pro specializes in producing professional training videos for every type of business. We've helped corporations, academic institutions, and other enterprises train new employees for less.
Plus, we can even help you create retraining videos that ensure all of your workers are familiar with your company standards even if they have been working at your business for years.
Stop wasting time and money training new employees in person. Let Hawaii Video Pro help you create educational, informative, and profitable training videos that can significantly reduce your training costs while enhancing your service consistency.