Videos Can Save You Time, Money and Effort when Training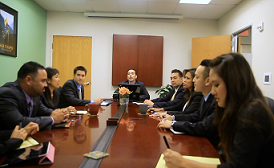 For most businesses, reducing employee turnover is a top priority. Not only do businesses want to hold onto their best workers, but they also want to avoid the costs of hiring new employees. One of the biggest new hire expenses is training. Depending on the type of business you own, training employees can take anywhere from a couple of hours to a couple of weeks. And all during that time, you need to pay the employees their regular wage while getting nothing in return in terms of direct servi...
Read More
Hawaii Is the Perfect Background for Your Video Production
The tropical lushness of Hawaii has always attracted Hollywood. The islands' natural beauty and exotic scenery have served the backdrop for many successful TV and film productions. From Elvis Presley's film "Blue Hawaii" and more recently "The Descendants" to popular TV shows like "Lost" and "Hawaii Five-O", Hawaii has served as the ideal background for successful storytelling. Hawaii is increasingly becoming the go-to location for Hollywood productions, TV shows, commercials and other typ...
Read More