3 Great Reasons to Choose Hawaii Video Pro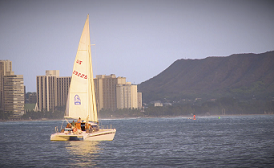 If you are looking for top-quality, professional video services in Hawaii, you need look no further than Hawaii Video Pro. We offer comprehensive video production services for businesses, institutions, individuals, and more.
Whether you are looking to make a training video, a commercial for broadcast, or simply to chronicle a wedding, graduation, or another important life event, Hawaii Video Pro should be your first choice for video production services in Hawaii.
 We're Experienced Professionals
Perhaps the biggest reason to choose Hawaii Video Pro is our experience. We've provided top-quality, professional video creation and production services for literally dozens of Hawaiian businesses, organizations, and groups.
Our experienced, professional video production professionals have the experience you can rely on for all of your video production needs. All you need to do is check out our comprehensive portfolio to see the diversity and depth of our experience.
 We're Local
Another important reason to go with Hawaii Video Pro is that we're native Hawaiians just like you! Now you don't need to go through the time and expense of booking a mainland video production service because Hawaii Video Pro can provide everything you need right here.
As locals, we also know the best locations and environments for optimizing your video content, whether it's providing the perfect background for your advertisement or creating a memorable location for your wedding.
We Come Highly Recommended
Our list of satisfied clients includes some of the biggest and most recognized names in Hawaii, including the most successful businesses, schools, and institutions. We've also provided video production services for some of the biggest names on the region's social scene.
The reason our clients recommend Hawaii Video Pro so enthusiastically is because we treat everybody as if they are our most important customer. And that's exactly how we will treat you, as well.
So whatever your video production needs in Hawaii, turn to the local company that area residents rely on the most: Hawaii Video Pro.