Hawaii's Finest Professional Video Services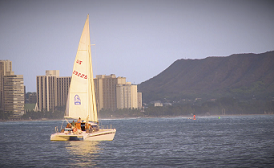 When a lot of people think of Hawaii, they envision a small place. And compared with the size of many of the states on the mainland, they would be right.
But Hawaii is not small in terms of population. In fact, it is the 13th most densely populated state in the US with more than 1.4 million people living on its eight main islands. And its capital, Honolulu, is as vibrant and busy as any city in the continental mainland.
Everything You Need Is Right Here
Contrary to what many people on the mainland believe, Hawaii is no sleepy backwater. It has a thriving economy and is on the leading edge of economic and technological growth among the nation's 50 states.
So when you are looking for professional video service for your business, institution, or social event, you don't have to look any further than right here in Hawaii. There are many high-quality, professional video production services to choose from in our state. But the one you should consider first is Hawaii Video Pro.
At Hawaii Video Pro, we have the experience, expertise, and the local reputation that makes us a leader in the video production industry in Hawaii. Residents and businesses have relied on us to document their most precious moments and to create informative, professional videos of every kind that genuinely connect with their intended audiences.
The Company Locals Trust
We have built our professional reputation serving the businesses, institutions, and individual clients that have chosen Hawaii Video Pro over mainland companies as well as other local video production services. No wonder we are endorsed and recommended by so many locals.
If you need professional video services including wedding videography, training videos, promotional videos, and more, your first and only choice should be Hawaii Video Pro, the leading local video production service that native Hawaiian people and businesses trust most.