Drones Offer Hollywood Cinematography for Any Video Production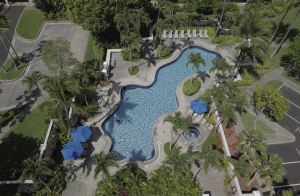 About a decade ago, the hot holiday gift was toy drones, tiny helicopter-like devices that could be flown and operated using a handheld radio controller. Since then, drones have made rapid technological advances and are now widely used in industry, law enforcement, inventory, and even package delivery.
Drones are also used frequently in photography and video production because they allow cameras to be taken to places that were not previously easily accessed: High above their subjects.
Eye in the Sky
Prior to the last couple of years, about the only people that could afford to film from the sky were big Hollywood studios with the resources to afford helicopter rentals, tall boom cameras, and other expensive equipment.
Today, anybody can get the same type of sweeping, cinematic effects using a high-quality video camera attached to a drone. All kinds of videos now use aerial photography, including television commercials, documentaries, instructional videos, and others.
Drone photography is now affordable, practical, and incredibly simple. Even the most amateur video creators can strap a smartphone to their drone and head for the skies to create a compelling, effective shot.
Drones Photography Specialists
But to create effective overhead shots you need professional skill and experience. Hawaii Video Pro was one of the first local professional photographers and videographers to include high-quality drone video production in their repertoire.
Now you can include videos shot by drone cameras in all of your video creations, including real estate listings, promotional videos for your business, and video production for social and corporate events. In fact, practically any type of video can benefit from the affordable yet effective drone photography offered by Hawaii Video Pro.
If you want to add new dimensions to your professionally produced video productions, let Hawaii Video Pro uses its experience and specialized skills to include overhead shots to your original videos.