People Eat with Their Eyes First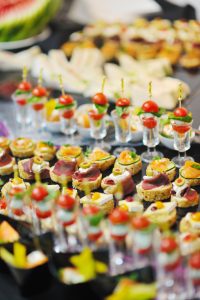 Are you hungry? If so, consider the physiological reaction your body has when you see an image of something delicious.
The human brain naturally craves food when the eyes see something that looks good to eat. It's as natural as breathing. And if you own a restaurant, catering company, or other food-related business, it could be the key to your success.
Seeing Is Believing
Most great chefs know that people eat with their eyes before they consume food physically. That's why they spend so much time and energy crafting food to look delicious as well as tasting great.
If you are promoting your food business to attract new customers and clients, you need to be doing the same thing. The images you present of your food are what's going to attract people to your business. Wanting great-looking food is a natural human response. So when people see that your food looks delicious, they are going to be more likely to take the action you want them to take — such as visiting your restaurant, calling your catering business, or clicking through to your website.
Promote Your Business with Video
The images you present of your food are critically important. Even if your food is world class, if it isn't presented the right way it's not going to attract new customers or clients.
Hawaii Video Pro specializes in creating great-looking, professionally produced videos that showcase your culinary creations. Whether you are creating a television commercial, a promotional video, or an introductory video about your business to post on your website, the experienced video technicians at Hawaii Video Pro have the technical expertise and knowledge to make your food look absolutely amazing.
In today's competitive market, businesses need more than just food that tastes great. It also has to appeal to people's eyes. Call Hawaii Video Pro to create professionally produced videos that take your food — and your business — to the next level.