Conventions, Conferences, and Trade Shows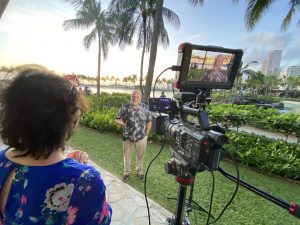 Hawaii is quickly becoming the destination of choice for conventions, conferences, and trade shows. Thanks to its idyllic location, tropical weather, and abundance of great places to stay, event organizers from the mainland and even Asia are now putting the Aloha State at the top of their wish lists for their next big event.
From academic conferences to industry trade shows to huge conventions, one thing all of these events have in common is the need for video. Seminars need to be recorded and even live-streamed. Ceremonies and keynote speeches need to be documented. And awards dinners and other social events need to be broadcast.
Good for Business
Business events such as these are where people from all over who work in the same industry can get together to network, share the latest ideas and innovations, and see for themselves the latest technological breakthroughs. Including a videographer in your event planning is an important part of documenting your event so that people who weren't able to attend can still benefit from it.
Today, live video is an important part of big industry events because it can be accessed by people all over the world in real-time, whether it's a keynote speech, breakout seminars, or even a tour of the convention floor.
Most importantly, video helps organizers promote their event, getting the word out to industry leaders and business owners so that they can make plans to attend the next one.
Hawaii Video Pro
In Honolulu, Hawaii Video Pro is the leader in video production for conventions, conferences, and trade shows. Our team of experienced videographers hasthe resources, experience, and equipment you need to document, record, and promote your event.
If you are planning a big business event in Hawaii, be sure to include Hawaii Video Pro as part of your production team.