Start Paying Attention to Drone Shots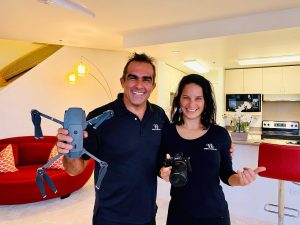 Have you noticed how prevalent drone video photography is now in TV, movies, and even television commercials? Start paying attention and you will notice that most shows have at least one drone shot in them.
The reason is simple: Drone shots are highly dramatic, they look impressive, and they instantly add high production values.
Tech Boom
The reality is that drone video photography is easier and more affordable than ever thanks to a massive leap forward in the technology that enables it. Today, drone cameras offer sharper high-definition images, lenses that hold focus better even during giant zoom outs and zoom-ins, and stabilization technology that keeps the picture stable even if the drone itself is shaking or being buffeted by winds.
TV and movies production companies aren't the only ones benefiting from these technological advances. Commercial advertising, real estate video production, and even home movies now increasingly feature a lot of drone video photography. It's become the norm rather than the exception these days. In fact, if your real estate video doesn't feature at least a couple of dramatic overhead shots of the property you are marketing, it's going to look out of place compared to all the other videos on the market today.
Hawaii Video Pro
At Hawaii Video Pro, we have high-tech, high-definition drone video cameras that can add value to your next production. Whether you are creating a promotional video for your business, marketing real estate, or simply creating an impressive video you can post to your website or social media accounts, we have the experience, tools, and expertise to create a one-of-a-kind drone video your viewers will love.
When you start paying attention to what's streaming on your devices, you're going to notice that drone videos are everywhere. Get into the game by letting Hawaii Video Pro create impressive, high-value drone shots for your next video.