Drone Photography Is Here to Stay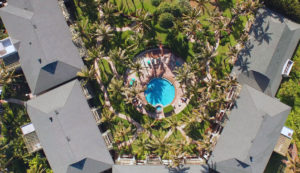 It used to be that only the most expensive movies and television shows would include bird's-eye views as part of their cinematography. That's because the tools needed to create such shots — helicopter rentals being the most costly — were too expensive for most creators.
Today, however, thanks to the cheap and prolific use of drone photography, practically every video includes at least one overhead shot. In fact, it's gotten to the point where a production not including drone shots can seem as if there is something essential missing.
Drone Photography for Everybody
Now you can include drone photography as part of your video production thanks to the professionals at Hawaii Video Pro. We were one of the first to introduce drone photography to the local video production market nearly a decade ago. And today we lead the industry by providing clients with engaging, visually stunning overhead video shots for commercials, promotional materials, real estate marketing, and much, much more.
What used to be a costly luxury is now an affordable essential. Including bird's-eye views of your property, your business, and other features can improve both the look and feel of your video, regardless of how you plan to use it in the future. Drone photography is here to stay and Hawaii Video Pro has the equipment, experience, and vision to make it matter to your next video production.
Drone Photography Adds Drama
In movies, overhead establishing shots are typically included at the beginning of the story to set the scene. They allow the viewer to move from the big picture to the smaller one in one fell swoop.
Today, affordable drone photography can add drama and scale to practically any type of video production, from digital videos that feature real estate property to wedding videos. At Hawaii Video Pro, we have set the standard for the use of drone photography in the local market. Come find out how your next video can be bigger, better, and more engaging with drone photography.