Always Wanted to Be a Director?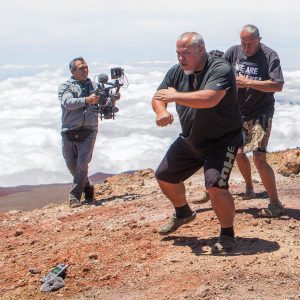 Most people go to the movies to be entertained. But when some people look up at the silver screen and see actors performing the story of the film, their first response is, "I could do that!"
If you have always wanted to be a film actor, a writer, or even a director, we have just one question: "What's stopping you?"
At Hawaii Video Pro, we have the equipment, experience, and knowledge to help you make your own movie. Whether it's a documentary, a scripted drama or comedy, or a reality show, the only thing standing between you and your dream of being a creator is your own inhibition.
"And … Action!"
Making a movie is a lot less complicated than it used to be. There is no longer a need for expensive cameras, special lighting or sound equipment, and a platoon of experienced craftsmen behind the scenes. These things can help improve quality, obviously, but they aren't absolutely essential.
Today, you can literally make a movie with your smartphone. In fact, some of Hollywood's biggest directors have done just that. But if it's your first movie, you probably will want to use a more traditional format such as a digital film camera because this may make it easier to get the consistency you want between shots and also make it simpler to edit later.
Hawaii Video Pro
The truth is Hawaii Video Pro helps people transform their film visions into reality all the time. We are experienced in documentaries, commercials, real estate videos, wedding videos, training films, and even the occasional feature or short.
So what are you waiting for? If you have always wanted to make a movie but don't know where to start, we have the immediate solution. Let Hawaii Video Pro put you in the director's seat so you can make your dreams of being a film creator a reality.