Drone Video Photography Adds Drama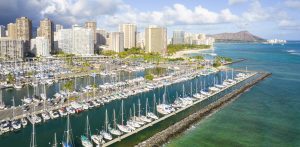 Any video can be made more dramatic with the use of drone photography from Hawaii Video Pro. Real estate marketing, instructional videos, corporate programming, and even social media posts can include spectacular sweeping vistas and bird's eye views thanks to our drone video photography capabilities.
Imagine your video intercut with soaring overhead shots that add drama and adventure to any type of video marketing. Best of all, with Hawaii Video Pro it's easy and affordable to include drone shots into your video production.
Drone Video Photography
Just a few years ago, overhead photography used to be an option only for those with big budgets. Expensive equipment like cranes or helicopters was required to create the dramatic effect of sweeping overhead photography.
But today, thanks to rapid advancements in aerial photographic drones, even a video with a modest budget can include the type of jaw-dropping, spectacular drone shots that instantly add drama and value while making your production look significantly more professional.
Whether you are marketing your property for a real estate video, offering potential investors a view into your business, or making an ordinary instructional training video more appealing and interesting, drone video photography from Hawaii Video Pro has what you need.
Hawaii Video Pro
It's fair to say that practically any type of video can benefit from the inclusion of overhead drone shots. And with Hawaii Video Pro, it's easy and affordable to include them in your next video production.
Imagine seeing your property or business from 100 feet above. And with drone photography, you can include shots that soar even higher or zoom in closer. It's entirely up to you!
You are going to be impressed by how amazing your next professional video looks thanks to overhead drone video photography from Hawaii Video Pro — and so will your viewers.