Capture Your Event for Posterity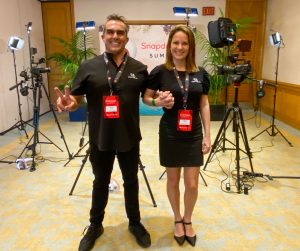 Organizing a big event like a birthday party, a convention, or a business conference is a big deal. It takes a lot of time and energy. And then — poof! — it happens and it's gone forever. Or is it?
What if you could hold on to all that hard work and planning and keep it forever in the form of a professionally produced video? If so, you could use that video for future marketing. Or post it on the company website for everybody to see. Or even use it to show others your skills at planning and executing a successful event.
Forever Video
The thing about video is that it lasts forever. That's especially true today with digital video, which never deteriorates, doesn't get lost or forgotten in the corner of some supply closet, and won't get taped over accidentally by somebody too lazy to find a fresh videotape.
So if you want to hold on to your memories for years or even decades to come, let Hawaii Video Pro create a professionally produced video that captures the moment forever, allowing you to return to it for years or even decades to come.
Birthdays, anniversaries, corporate events, and more deserve to be remembered and cherished. Digital video lets you hold onto life's greatest moments.
Hawaii Video Pro
At Hawaii Video Pro, we have been helping people, businesses, and organizations in Hawaii hold onto the important milestones in their lives for more than a decade. Our team or experienced, knowledgeable videographers has the skills and equipment to make beautiful digital videos you will want to return to time and time again.
Best of all, once you let us create your video, you can watch it, share it with others, and even use it to promote your business online as often as you like at zero additional cost.
Life goes by fast. Capture the memories you want to hold onto with professionally produced videos from Hawaii Video Pro.